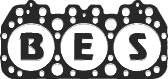 Ballymena Engine Spares Ltd
Engine Components - Exhaust Systems - Bearings - Pistons
About Ballymena Engine Spares
Ballymena Engine Spares Ltd was established in 1989 initially as a provider to the engine reconditioning sector. With the move to purpose built premises in 2000, B.E.S Ltd began to operate in the general service market. We still, however, retain our specialist knowledge and stock availability in the niche markets of engine components and commercial vehicle exhaust systems.
B.E.S Ltd have vans operating throughout the province and can supply on a same or next day basis in most areas.
As a member of the Independent Automotive Aftermarket Federation we are aware of and comply with all industry standards. Furthermore, through membership of the United Aftermarket Network we have access to all the leading brands within the motor components trade.

Open
9am to 5.30pm Mon - Fri and 9am - 1pm on Saturdays
Multiple Daily Deliveries
Copyright 2022 Ballymena Engine Spares Ltd